A Complete CAD Standards System
For drawings to conform 100% to CAD standards, you must have a complete CAD Standards system.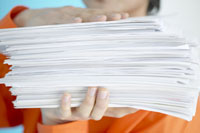 Printed standards manuals and custom menus and pick-lists in software are a good start for defining and using standards, but they cannot promote and enforce full conformance to CAD standards.
When you have a complete CAD Standards system you have a process that ensures your drawings will conform 100% to your CAD standards. There's no guessing - your process ensures the result.
Altiva has a number of products to help you develop a complete CAD standards system. ControlCAD is a simple and powerful suite that allows management to have control by specifying, deploying and finally monitoring the CAD design work flow. At the time of receiving deliverables, ControlCAD automates the process of checking and neatly produces a status of the project, in a graphical, easy to read interface.
A Typical Workflow:
Distribute CAD environment to outside consultants

Consultants design and draft CAD files

Design files go through Check/Fix process according to CAD standard

Electronic, tamper-proof seal on each CAD file proves its compliance

Digital signature is applied to each CAD file

PDF file is created

CAD files are indexed to attach all required attributes

Management reports are automatically generated

Files are packed into an archive

Archive automatically uploaded into document management system
A Closer Look at the ControlCAD Suite
Where's the ROI?
As a business manager, you are surely interested in methods to continually improve your current operations to increase profits and to help grow your business. The goal is to eliminate inefficiencies, improve information provided for construction and use technology to automate processes. ControlCAD can help you do this by:
Eliminating manual checking of project deliverables

Consistently organizing data for all projects, from all sources

Clearly communicating design intent

Streamlining post-project electronic data management

Next Steps: Read ControlCAD Product Brochure
---
Altiva License Server
Altiva clients owning a set minimum number of licenses can utilize the Altiva License Server application which provides pooled, concurrent licensing.
---
Autodesk Exchange Apps
Check out Altiva's free apps on the Autodesk Exchange Apps store:
BlockDescImporter — Populate the Descriptions of any/all Blocks in a drawing by defining the list of Blocks, and their corresponding Descriptions, in a TXT file

CSVtoDWT — Populate an open drawing with Layers (including the Color, Linetype, Weight, and Description) from a predefined CSV (Comma Separated Values) file