| | |
| --- | --- |
| | Altiva Licence Server |
The following steps should be taken for uninstalling Altiva Licence Server, in the following order:
Stop and Uninstall the service through the ALS Main Window.
Uninstall the application using: "Control Panel > Add / Remove Programs > Altiva Licence Server"
You may also need to manually remove any edited files remaining in the following directory, as the installer does not remove files modified after the installation occurred:
On Windows 2000 through to Windows XP / Server 2003:

C:\Documents and Settings\All Users\Application Data\Altiva Software\Altiva Licence Server\*.*

On Windows Vista / Server 2008 through to Windows 10:

C:\ProgramData\Altiva Software\Altiva Licence Server\*.*
NB: If you don't stop and remove the ALS service prior to uninstalling the program, then it may remain loaded and running until the next reboot, as the Operating System cannot remove the EXE file for a service that is currently in use.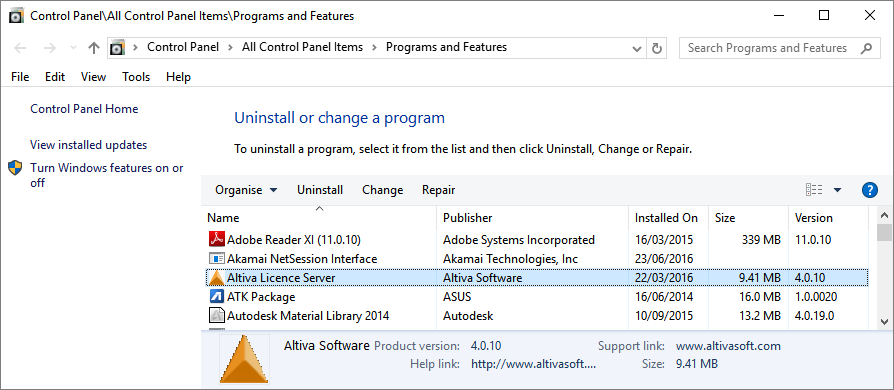 Uninstalling ALS through the "Programs & Features" window of the Control Panel